March 13th, 2021
Erolzheim, Germany
E3 / DC lithium battery storage manufacturer qualifies RAACH SOLAR
RAACH SOLAR successfully passed the installation and sales training and test for lithium home storage systems and was appointed "certified partner" by the manufacturer E3/DC. This qualification enables RAACH SOLAR to install and commission complete photovoltaic lithium battery storage systems.
E3/DC- offers battery capacities from domestic 3,25kWh up to industrial applications with 100.000kWh storage capacities. The all in one device includes DC MPPT battery charger, intelligent energy management and battery inverter electronics "made in Germany". In combination with wall boxes for charging electric cars and contacts to control external loads such as heat pumps, the home power station maximises the use of solar electricity before.
February 19th, 2021
Erolzheim, Germany
RAACH SOLAR registers record growth of +40% in turnover during COVID19 pandemic
RAACH SOLAR defies the COVID19 pandemic by increasing its turnover by more than 40% compared to the previous year. The international PV market development in 2020 has slowed down but remained stable in 2020. Some national markets have shown stong developments such as Germany. According to the latest figures, the German photovoltaic market has reached a volume of 4.9GWp in 2020, up from 3.8GWp in 2019.
"We participate in the growth of the German PV market, but our international footprint remains strong. More than 80% of our sales we make outside the European Union" says Jürgen Raach, general manager of RAACH SOLAR and adds "photovoltaic power currently sees its renaissance for the coming years driven by a strong demand for very economic and clean electricity to supply our houses, industries and electric cars".
October 13th, 2020
Dhaka, Bangladesh
RAACH SOLAR scores $9m solar pump order in Bangladesh
RAACH SOLAR and its Power Utility Bangladesh Ltd local partner have landed two contracts to supply more than 700 pumps in the north-western Bogra district, with the Asian Development Bank footing the bill. German supplier Raach Solar and a Bangladeshi partner have secured two tenders worth a total $9 million to install 705 solar-powered irrigation pumps in the north-western Bogra district of the South Asian nation.
The program is being carried out by Raach with the Power Utility Bangladesh Ltd energy unit of the Dhaka-based, plastics-to-banking Bengal Group of Industries conglomerate. The pumps will be financed by an Asian Development Bank (ADB) grant under the development lender's power system efficiency improvement project.
August 21st, 2020
Karlsruhe, Germany
New EU funded research project on sustainable irrigation in Morocco and Tunisia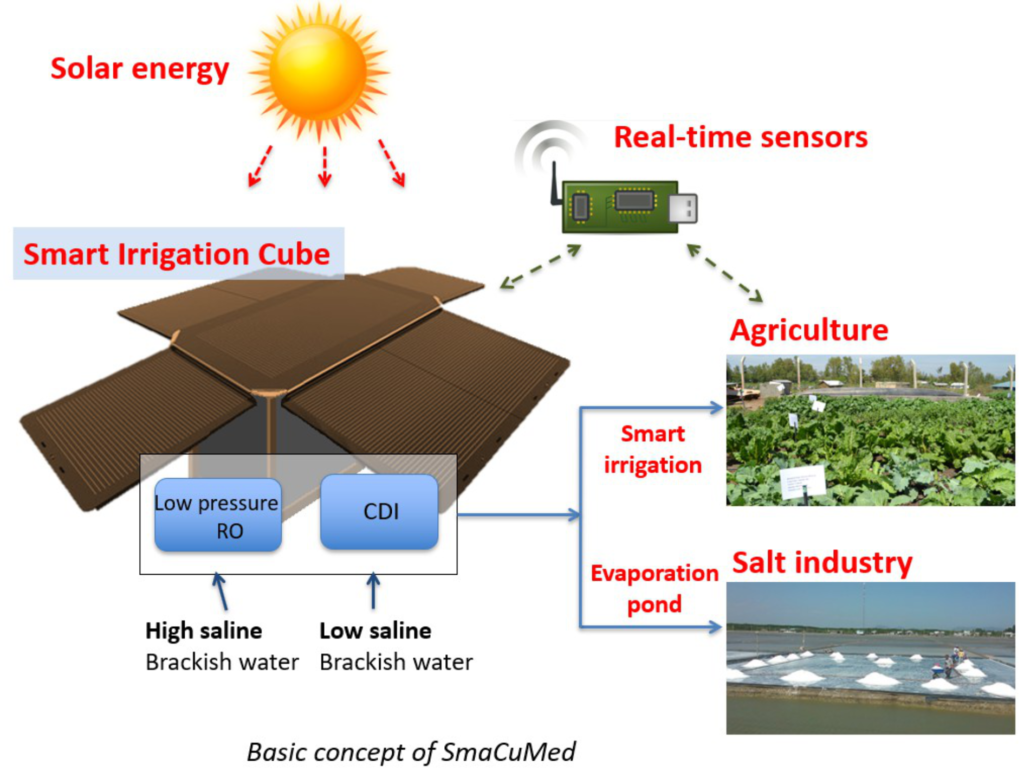 The online kick-off meeting for the new EU project "Smart irrigation cube for sustainable agriculture in the Mediterranean region – SmaCuMed" took place in July 2020 at the Karlsruhe University of Applied Sciences (Hochschule Karlsruhe – Technik und Wirtschaft) under the leadership of the working group of Prof. Dr.-Ing. Jan Hoinkis, Faculty of Electrical Engineering and Information Technology. Funding is provided within the framework of the so-called PRIMA Initiative (Partnership for Research and Innovation in the Mediterranean Area). RAACH SOLAR was awarded a six digit grant by the presigious DLR (Deutsche Luft und Raumfahrt) to develop the independant solar power supply unit of the water desalination plant.
The innovation of SmaCuMed is to develop a new concept for a sustainable all-in-one irrigation system and to pilot it locally in Morocco. "Morocco is a typically Mediterranean country suffering from severe water poverty. But water is urgently needed for the rapidly developing agricultural production," explains Prof. Hoinkis. "Because of climate change, Morocco, like other Mediterranean countries, cannot rely on rainfall or groundwater sources to meet its water needs for agriculture. Many groundwater sources, especially in coastal regions, are salinated (brackish water) and cannot be used for agricultural irrigation," Hoinkis continues. Morocco has a large potential of brackish water with an estimated salinity of between 1 and 16 g/l.