Ladies and Gentleman,
I am happy that you found the way to RAACH SOLAR to share common motivations. Let me introduce you to our company's philosophy and historical background.
My motivation has turned into my profession dating back to the 80's, where we still remember the nuclear accident of Chernobyl (Ukraine) and the continuous pollution of our air to breathe, our water to drink and our soil to plant. The Fukushima (Japan) nuclear accident and the ongoing pollution has remembered us that nothing has changed.
I see as major problem the continuous growth of our world's population and the consumption of our resources and fossil fuels which go in hand with the continuous pollution. Renewable energies in the energy sector are the only way to reduce greenhouse gases and replace a central energy supply into a democratic decentralized structure.
In particular photovoltaic technology with its modular design from small scale to large scale power systems is the utmost solution to alleviate the harm which has already been done to nature. Well designed integrated photovoltaic solutions can use existing surfaces to generate clean and affordable power.
RAACH SOLAR is a family owned company. Our office is not only a three glazed passive energy building, but a plus energy building which produces more power than it is consumed by electric devices and heating.
By combining best quality components and special designs, we create photovoltaic systems, that stand for durability, economics and esthetics.
Enjoy browsing through our photovoltaic website and photovoltaic systems catalogue.
Sincere thanks
Jürgen Raach
30 YEARS PROFESSIONAL EXPERIENCE !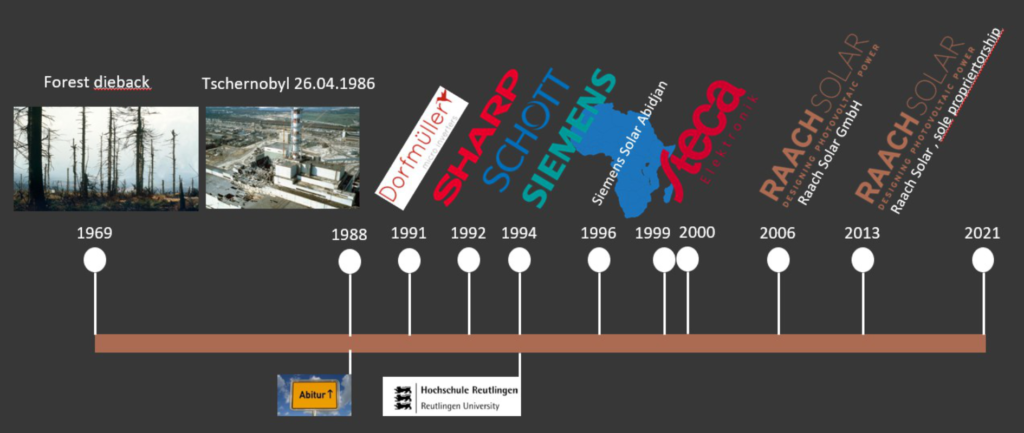 MILESTONES
1991
Grid tie installations in the framework of the "1000 Solar Roof Top Project" at company Dorfmüller Solaranlagen in Stuttgart, Germany
1992
Industrial internship at SHARP CORPORATION in Japan at R&D Energy Conversion Laboratories in Nara prefecture, close to Osaka, Japan.
1994
Master of Business Administration (MBA) at Reutlingen University, Germany on "Economics and Technology of Solar Pumping Systems" in Indonesia.
1995
Project management at SIEMENS SOLAR GmbH Munich, Germany for solar projects in Africa, especially the regional Solar Programme (CILSS) on more than 500 solar pumping systems in West Africa.
1996
Promotion to area sales manager West Africa at SIEMENS in Abidjan, Ivory Coast to set up solar distribution network in more than 20 countries in the sub saharian region.
1999
Appointment as area sales manager Africa at STECA Memmingen, Germany for battery charging systems, inverters, DC loads and special applications.
2006
Incoropration of RAACH SOLAR GmbH as an operating and asset holding company for grid connected solar systems and power plants.
2013
Formation of RAACH SOLAR, Jürgen Raach, individual proprietorship in Erolzheim, Germany as engineering, procurement and commissioning company (EPC) for turn key photovoltaic systems, consulting and services.
STRATEGIC IMPORTANCE
RAACH SOLAR supports German Government
and international organizations to increase the share of renewable
energies in their electricty and energy production.
RAACH SOLAR fights climate change to by
deploying zero emmission photovoltaic systems.
RAACH SOLAR supports the German
Ministry of International Cooperation (BMZ) and its technical
cooperation agency (GIZ) to help developing countries to meet
sustainable development goals (SDG).
MISSION STATEMENT
RAACH SOLAR engineers, procures, delivers, installs and maintains turn-key and tailor made photovoltaic systems worldwide. RAACH SOLAR is a premium supplier for open area photovoltaic power plants, building integrated photovoltaics (BIPV), carports, battery storage systems, AC mini grids, solar pumping systems, solar streetlights, charging stations and charging concepts for electric vehicles as well as consulting services for renewable energy projects.